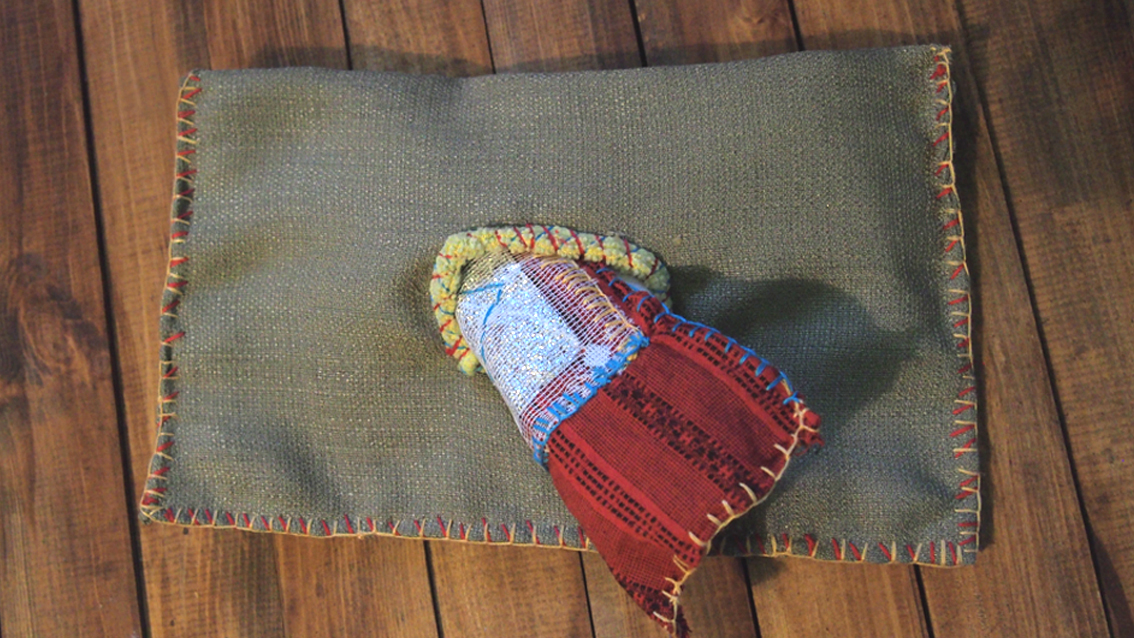 Nursling Package – eco toy for infants
Nursling Package is an educational and sensory toy, designed for babies from 6 months of age. Until about 5 month babies capture items all hand-grip without catching by thumb and forefinger. About 6 month babies begin to have fun exercising that very grip. Children tend to see details and minor items, capture exactly, deliberately and plan an activity that they want to perform. To exercise these activities Nursling Pack of FolkSmolk Studio was created. Our children again were an inspiration, who at that age with the greatest passion have been taking out tissues from packs, or shopping from bags etc.
The base of Nursling Package, is a textile sachet with rustling filler, in which there is a coluorfully sewn hole. The sachets are accompanied with colourful, shiny and rustling tissues. Each element of the set can be a separate toy for baby. Each element rustles, each can be bend or crampled, but it will return to its original shape, it also has part of the shining-so interesting for a child of this age. We choose the colours of the materials in such a way so as to stimulate the child's visual perception, and uneven and colorful stitching attracts the attention of a toddler in seeing details. Colours and the execution of the toys, are directly related to the visual capabilities of a baby at this age and its development of visual perception. Sachet with tissues encourages rustling or crampling – the child exercises the capture and compression, colour and uneven stitching encourage careful perceptuality – it exercises the child visual perception, removing from the sachet the tissues' corners allows the child to practise precise grip with tumb and forefinger and the desirability of action to be taken. Basic fun is the insertion of tissues to sachet (leaving the corner out), and baby grabs a tissue and takes it out. The fun should be repeated, so as to encourage baby to take tissues out. Once taught the infant at a later time will put the tissues in and take them out without parent's help. Inside the sachets popular toys of the child can also be put in, which will be eagerly sought by a toddler and taken out of. Both sachet and tissues may be crampled, pulled, sucked by a child, and a parent can wash and dry them. Nursling Package is used for both manual skills training (precise capture, compression, crampling, shaking, bending …), vision (perception, noticing details, accurate viewing) as well as audio (rustling, crampling, shaking, tapping).
Nursling Package belongs to the eco RECYCLING form of FolkSmolk workshop. Materials used for its creation are subjected to the recycling and partly arise from recycling itself. During the long-term observations and work with children, we have noticed that the baby got more interested with a toy being a piece of rustling film rather than with the more expensive, but dull toy. We create our toys with safe natural materials (fabric, cardboard, etc.), as well as a safe and interesting for the child recycling materials. To maintain the highest security of materials (e.g. foil), we use only materials intended to come into contact with food-they give assurance of quality. This advantage is particularly important in case of infants, whose most of the toys are put into their mouth, bitten and attempted at tasting. Rustling items not available to a child also retain the highest security, because we use only materials connected with accessories for babies.
PLEASE NOTE! NEVER LEAVE A CHILD WITH ANY TOY ALONE. EVEN THE SAFEST TOY MUST BE CONTROLLED AND USED BY A CHILD UNDER THE CARE OF AN ADULT!!!
Buy toys in

Folk

Smolk